Interactive Online Event:
Talk about the rights for animals, plants, and other beings
by Erno Eskens  
Date: Thursday April 9th, from 17:45 to 18:30
In this talk, you will get to know the concept of legal personhood for all beings and for nature itself as a way to protect it.
earn Mor
About this Event:
Rights are inherent to all life forms with interests. We can observe if life forms have interests by checking if they make an effort to do something. Being "Rights" a "human-created" concept, these can help protect animals, plants, and other living beings even ecosystems, which can obtain legal personhood as well. This concept is getting more attention at national and international level and if it is implemented, it can have a radical impact in the way future societies will develop.
About Erno Eskens
Erno Eskens is a Dutch philosopher and political scientist. In 2009 he published Democratie voor dieren (democracy for animals), which was followed in 2015 by Een beestachtige geschiedenis van de filosofie (A Beastly History of Philosophy, PhD-thesis). Erno Eskens is publisher at Noordboek.
Support our organization
This event is run by volunteers whom love to continue organizing and running these interesting talks for you. So, please select the type of ticket that fits better with you.earn Mor
Take a look at this presentation and dialogue
Interactive Online Workshop:
Near Futures Edition: "Regenerative Food Systems"
Date: Thursday April 1st, from 17:30 to 20:30
earn Mor
About this Event:
Rethinking our food systems ( from what arrives in our plates to those producing and transporting it) is a challenging yet crucial task to ensure a more sustainable future for generations to come. Changing our current food production ecosystems towards a more regenerative agricultural practices can have a direct impact on multiple Sustainable Development Goals: Zero hunger (2), Healthy living (3), Sustainable consumption (12) and Respect of life on Earth (15).
On April 1st, we invite you to come and draw inspiration from Kode21's innovative work on the matter and imagine with us what a society which has adopted regenerative agricultural practices might look like.
You don't have to be expert on the topic but be curious about how we can start designing different approaches.
During the 3hr workshop, you and your team will be guided by a facilitator who sets up the right conditions to unleash your imagination, structure the writing of the story and keep the theme in your story. All of you will have enough time to discuss, to imagine and to write a creative story in a not so distant future where regenerative food systems are taking root. The challenge is to co-author short fictions from the beginning to the desired end.
And at the end of the time, the stories are shared with the other teams and then published on two sides: Futurs Proches and Connected website. In this last website you can find creative stories created during previous events.
Why joining it? You will enjoy meeting like minded participants, and experience the pleasure and excitement of working creatively against a deadline. Find in our workshops the pleasure of re-appropriating their imaginations and of new encounters to move their convictions.
About Near Futures
This workshop is using a framework developed by the Swiss organization Futurs Proches which believes in the power of story telling to reclaim our collective fate in a positive, inspiring and forward looking way. Imagination is essential in order to draw out possibilities and foresee options we can then choose or not to follow. Everyone have their say. Fictional writing, like any other artistic form, offers a way to question our future, and writing especially is an accessible, fast and practical medium.
NearbyFutures is a non-profit organisation created by Nicolas Gluzman.
Agenda of the event
Intro to "Envisioning Near Futures"
Intro to the workshop and case
Working on teams to create a innovative story
Sharing stories and discussing inspiring insights
Closing the event
rn Mor
Some impressions of this workshop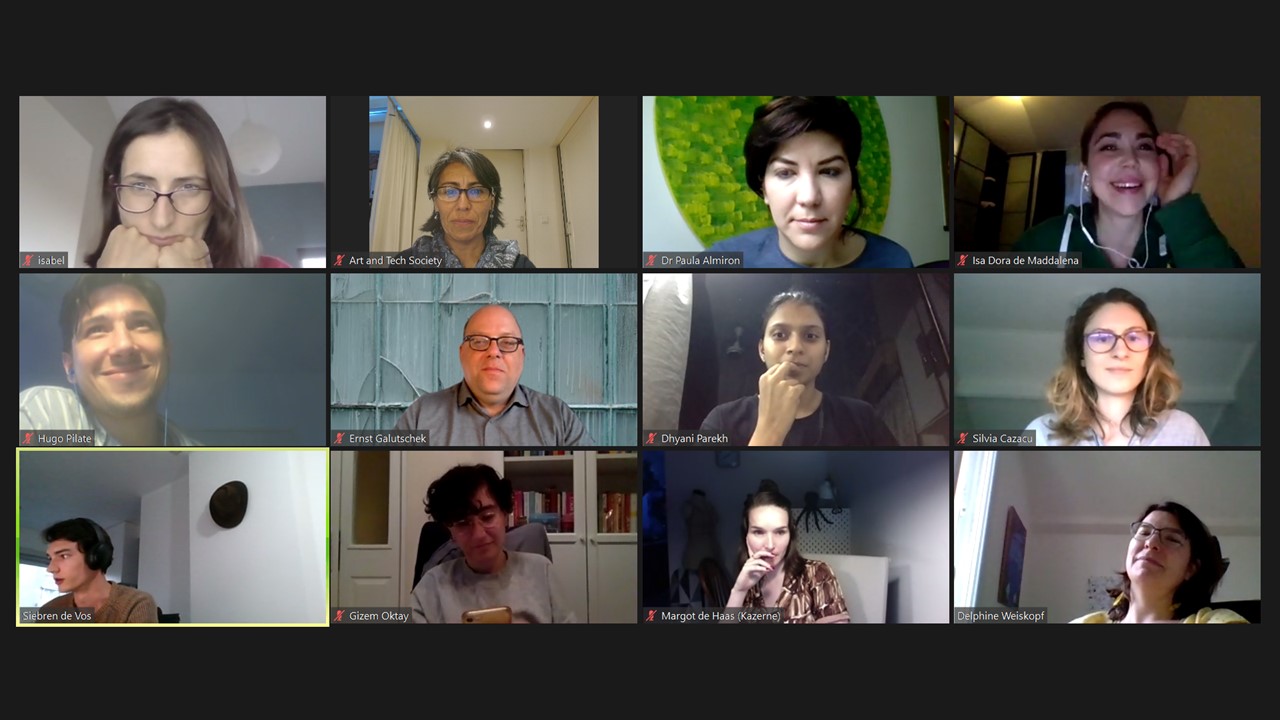 Curious about our previous events?  
Looking forward to seeing you in one of our coming events
Let's get in touch
Say Hello!
Do you want to be updated about our coming events? 
Then, subscribe to our Newsletter:
Do you want to be directly involved in our activities? Then, send us a message:
Stichting Art + Tech Society is a non-profit organization registered in Eindhoven, the Netherlands under the CoC (KvK) number 76420345 and the RSIN/Fiscaal nummer: 8606.18.195.