Connected is the most funny and effective way to expand your social network and getting to know activities and initiatives that runs in the city!
We use playfulness and story-telling to encourage people to meet others with similar interests and get to know innovative initiatives of the city while having fun.
In this way, the participants of our events make new social contacts and get to know new activities of the city and maybe join them.
We are organizing events for all young adults, especially newcomers who come to study and work in international institutions.
In the last months, we have been using a story-telling framework developed by Futurs Proches, which encourages participants to create innovative and creative narratives. 
Some of the stories that have been created are:
The Dig Manifesto
Authors: Siebren de Vos, Dhyani Parekh, Ernst Galutschek
Dear Natalie,
For 60 years I've been plowing. I enjoy the monotony, taking the soil sample, sending the data, moving 30 cm and repeating the process.
I write to you, hoping you'll understand that there is … to read more
Joining on the grapevine…
Authors: Margot de Haas, Gizem Oktay, Mayra Ortega-Maldonado.
Since the disruption of the food system, cooperative farms started to gain the upperhand in the Netherlands. Eindje Coop was one of the operating cooperative farm system in the city and suburbs of Eindhoven. The Netherlands has been producing more and more grapes due to … to read more.
Planting ideas and veggies at school
Authors: Isabel de la Fuente, Paula Almiron, Isa Dora de Maddalena
Anabelle (coop farmer) is sitting at a table outside with Hans (cafeteria manager):
Anabelle: "We have a lot of great ideas for the 15 birthday meals this month but I'm not sure we can afford them!"
Hans: "Thank you for … To read more.
The smart stove and the composted old man
Authors: Cecile Espinasse, Zubin Nayak and Beant Kaur Dhillon. Claudia Schleicher attended partially this event.
Everything started when Internet of stove (IoS) started to shout: oh my god! This will be an interesting day today: the cooking group of the "elder-kid home" this week are all foreigners! They will make me burn with new weird spices!? … to read more
The amazing story of Barry's berries -Part 1-
Authors: Theodora Rahayuni, Jorim Theuns and Ceren Bagatar
Barry looks out his window at his garden and asks Jeeves:
?️ Barry: "Jeeves, what's in the garden? There's some leeks left right? Anything I should know about?"
?️‍?️ Jeeves: "There's been a catastrophe, Barry" … to read more.
Mississippi meeting the Nile in Amsterdam
Authors: Joe Tankersley, Caroline Hamrit and Hugo Pilate
The representative from Mississippi delta can't believe that she has been summoned to attend this course because her region has consistently failed to reach the climate goals. To read more.
About the workshop framework developed by Future Proches
Futurs Proches is a Swiss organization which believes in the power of story telling to reclaim our collective fate in a positive, inspiring and forward looking way. Imagination is essential in order to draw out possibilities and foresee options we can then choose or not to follow. Everyone have their say. Fictional writing, like any other artistic form, offers a way to question our future, and writing especially is an accessible, fast and practical medium.
To know more
Futurs Proches hosts imagination-fueled collaborative writing workshops to explore different themes related to transition, resilience and collapse. We are convinced that, little by little, these stories of a new genre will dominate our representations and positively permeate our minds. Our hope is that if they are widely shared, they will help shape desired landscapes, societies and organizations.
NearbyFutures is a non-profit organisation created by Nicolas Gluzman. An ordinary citizen searching for answers to his own questions, Nicolas wanted to explore the issues of transition, resilience and collapse through the mechanics of storytelling. It brings together around 60 facilitators who put their skills at the service of civic engagement for inspiring futures.
What do our workshops look like?
We usually bring together enthusiastic people who are split up into groups. Each group, roughly 4-5 people, work together to produce a story they'll read out by the end of the workshop. Our facilitators set up the right conditions to unleash your imagination, structure the writing of the story and keep the theme in your story.
Each sub-group is led by a facilitator trained in the method. The stories are then published on our blog under the "Creative Commons – Attribution CC BY" license.
Participants enjoy meeting kindred spirits, and experience the pleasure and excitement of working creatively against a deadline. find in our workshops the pleasure of reappropriating their imaginations and of new encounters to move their convictions.
We are a team of enthusiastic volunteers who organize monthly or bimonthly events. Once every three months we design a new edition. So, stay tuned!
Edition "Stories of Eindhoven" (June-Oct 2020)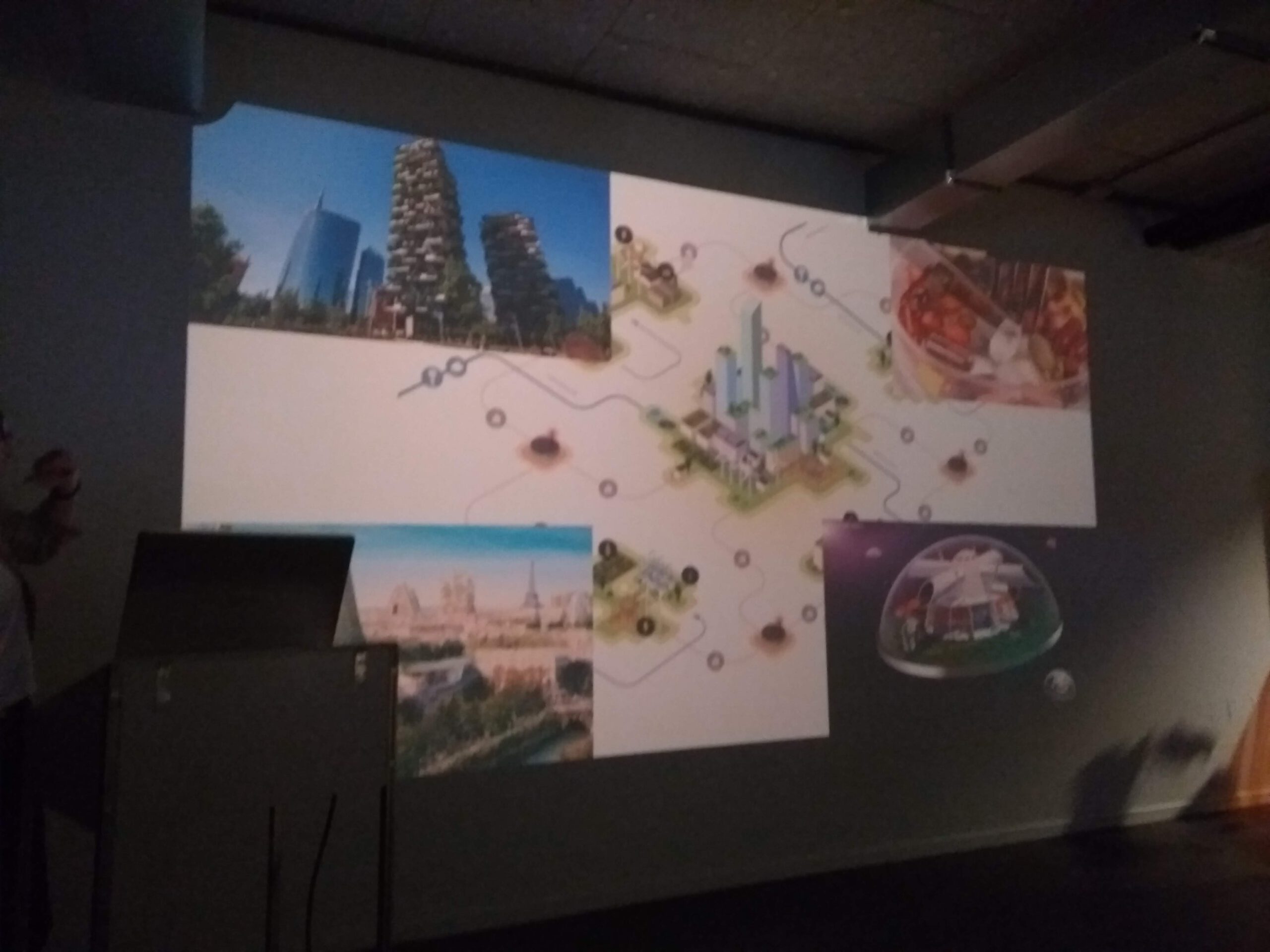 Edition "Treasure Hunt" (Oct 2019)
If you are interested to join us or share your ideas with us
about new editions, please contact us.
Let's get in touch
Say Hello!
Do you want to be updated about our coming events? 
Then, subscribe to our Newsletter:
Do you want to be directly involved in our activities? Then, send us a message:
Stichting Art + Tech Society is a non-profit organization registered in Eindhoven, the Netherlands under the CoC (KvK) number 76420345 and the RSIN/Fiscaal nummer: 8606.18.195.